text.skipToContent
text.skipToNavigation
.page-nlmServicePage #LieferungPremiumGrid {display: none;}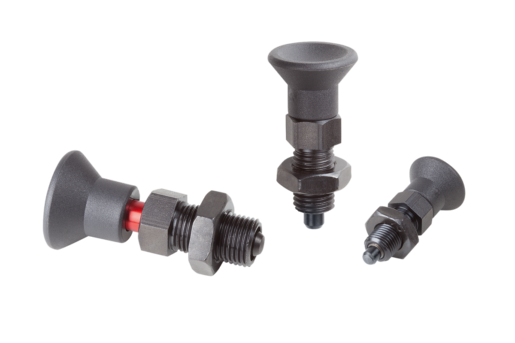 Indexing plungers with locked mark, Form A from €11.72

plus sales tax

plus shipping costs

Indexing plungers with locked mark, Form B from €11.98

plus sales tax

plus shipping costs
Description
Indexing pin steel.
Threaded sleeve steel.
Mushroom grip, dark grey thermoplastic.
Lock mark aluminium.
Indexing pin steel, hardened, ground and black oxidised.
Threaded sleeve black oxidised.
Lock mark red anodised.
Indexing plungers are used to prevent any change in locking position due to lateral forces. A new locking position can only be set after the plunger has been manually disengaged.
When the lock mark is visible the plunger is either completely disengaged or only partly in the index position.
Form A: non-lockout type, without locknut
Form B: non-lockout type, with locknut

1) marking ring